Introduction
Leader in Stripping and Wire Stripping solutions Jokari-Krampe GmbH (Limited) is market leader in the stripping and dismantling technology for all types of wires, cables, and conductors. We produce professional tools for mostly all application areas in which wires must be processed easiyl, quickly, and safely. Our cable knives, cable and wire strippers are, with a few exceptions, TÜV- and GS-certified - we aim at a safe handling of all our products. As a renowned specialist with more than 50 years of experience we continually develop innovative solutions for all demands and broaden our product range to adapt it to the changing market conditions.
Products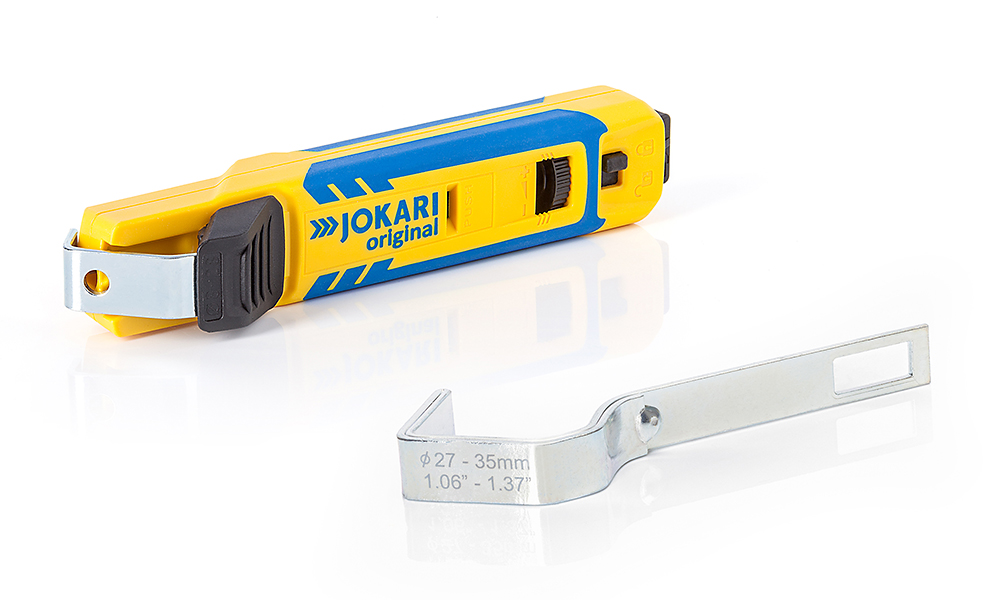 Cable Knife System 4-70
The JOKARI Cable Knife System 4-70 is the perfect synthesis of ergonomics and safety. For insulating of all standard round cables from 8-28 mm diameter, expandable with additional cable brackets expandable up to a working range from 4-70 mm diameter. Safety: Cut injuries are a thing of the past with the newly developed protection mechanism. This precision tool is your safe companion in all work situations. Modular System: Thanks to the intelligent bracket change system, all common cable types, from 4 to 70 mm diameter, can be stripped with just one tool. One for all – there's nothing better. Design: The cutting can be monitored instantly through the unique a sight window in the metal bracket. The perfect ergonomic design of the new JOKARI ensures comfortable handling.
More info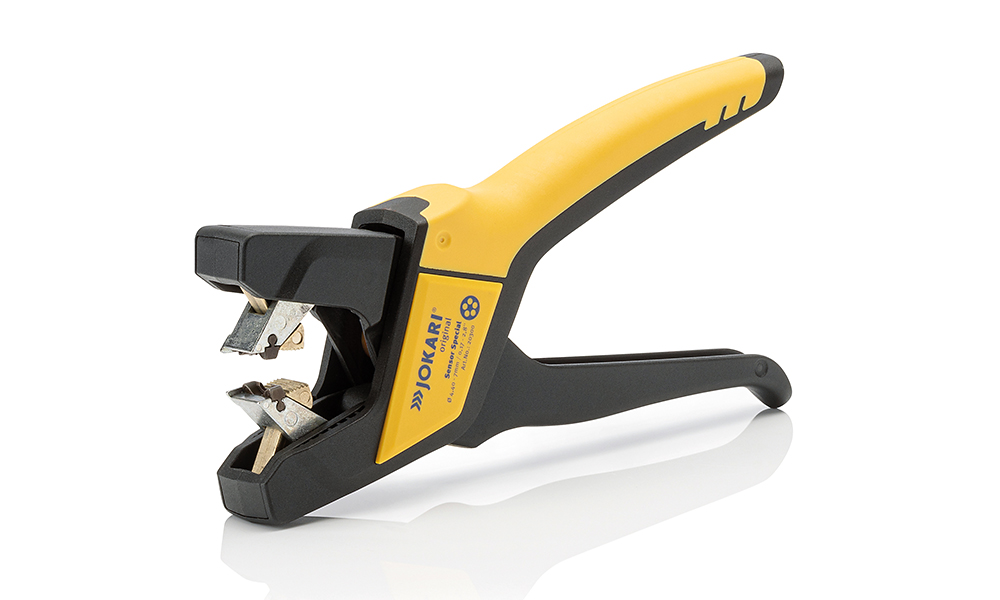 Sensor Special
The Sensor Special is an automatic wire stripper for stripping combination cables for sensor-actuator junctions / bus couplers connections. The internal conductors and shielding are not cut or damaged. The cable duct in the stripper handle allows the unlimited stripping of data cables. Range: halogen-free sensor-actuator cables with PUR or PVC insulations, 3 to 8-strand sensor-actuator cables with PUR or PVC insulations, 3 to 8-strand cable layouts, shielded or unshielded (e.g. 3xAWG22 (3x0.34 mm²) unshielded to 8xAWG23 (8x0.25 mm²) shielded). TÜV/GS approved.
More info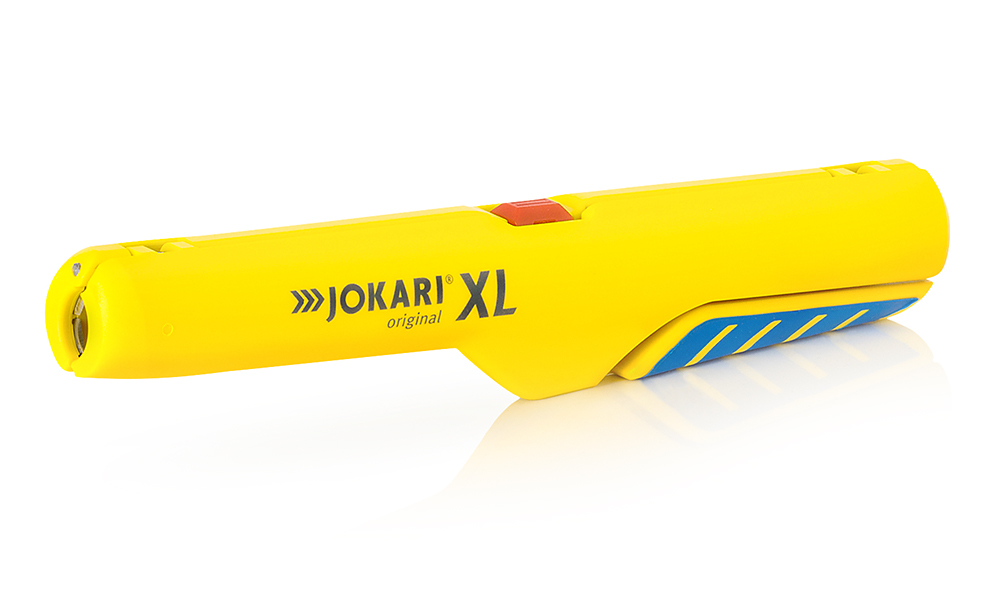 JOKARI XL
JOAKRI XL for precise cable stripping of common round cables from 8 - 13 mm Ø, e.g. continental NYM cables from 3 x 1.5 mm² to 5 x 2.5 mm². Extra long design and improved force transmission for quick and easy cable stipping in device connection sockets. The renewed four-blade design increases the precision of the round cut. Safe grip due to non-slip grip zone for easier work. With length scaling for an accurate stripping result and labeling field for the personalization of the cable stripper. Blades with special Titanium-Nitride coating (TIN) to achieve longer life, faster cutting and less wear. No adjustment of cutting depth necessary. TÜV / GS approved.
More info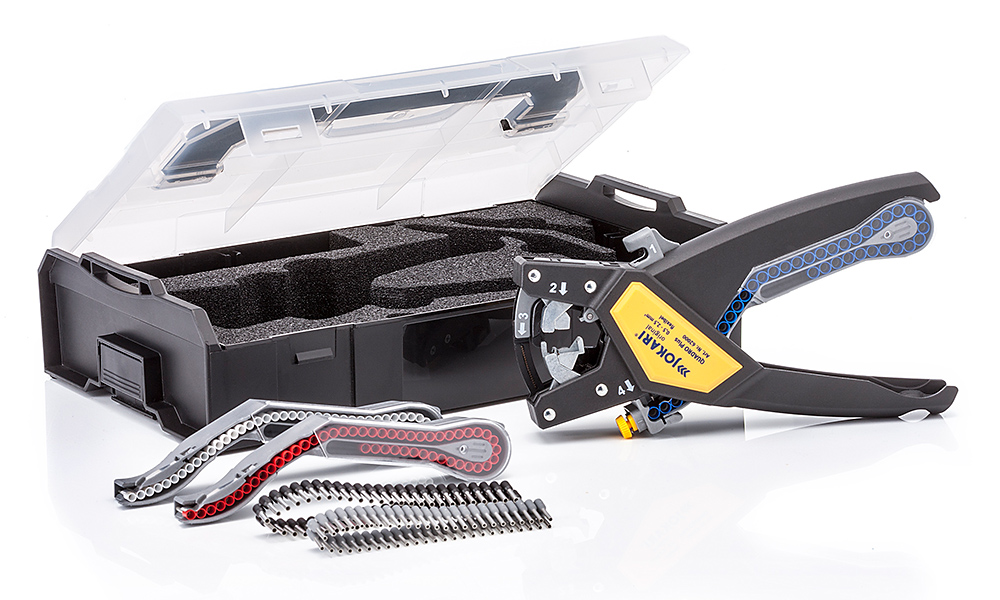 QUADRO Plus
The QUADRO Plus offers the unmatched integration of four different functions: Cutting – insulation stripping – twisting – crimping. This tool is the perfect synthesis of ergonomics and functionality for fast and precise crimping of connector sleeves from rolls. With integrated locking mechanism to ensure an even, high-quality pressing through the end position check of the crimp stamp. The quick reloading of connector sleeves by switching magazines enables fast and efficient work. There is no adjustment necessary for all different cross-sections of the working range. Range: cross sections from AWG 20 – 14 (0.5 to 2.5 mm²). This set includes the stripping tool with case and three magazines.
More info
Location
JOKARI-Krampe GmbH
An der Vogelrute 34
59387 Ascheberg-Herbern
GERMANY
T: 02599 1289
F: 02599 7151
The content of this page is under responsibility of the respective company.