Introduction
We are develop, produce and distribute an extensive range of stripping tools. This includes cable knives, wire strippers, dismantling and multifunctional tools. Our tools have been developed for accurate, fast and safe stripping of all common cable types. They carry the GS seal of TÜV Nord and were developed under the aspects of work safety. The tools are specifically tailored to the needs of professional users, are found in both, crafts and industrial use, and are also suitable for domestic use. Our tools are technically state-of-the-art. We discover new trends at an early stage resulting in crucial ideas for the designing of new tools. We are even able to produce first samples right here on our own premises – thanks to a modern 3D printer. We at WEICON strive to use natural resources carefully and sparingly. That is why since the beginning of 2020, we have been packaging our tools in recyclable cardboard boxes and thus avoiding plastic completely. In addition, we contribute to more environmental sustainability by our local production.
Products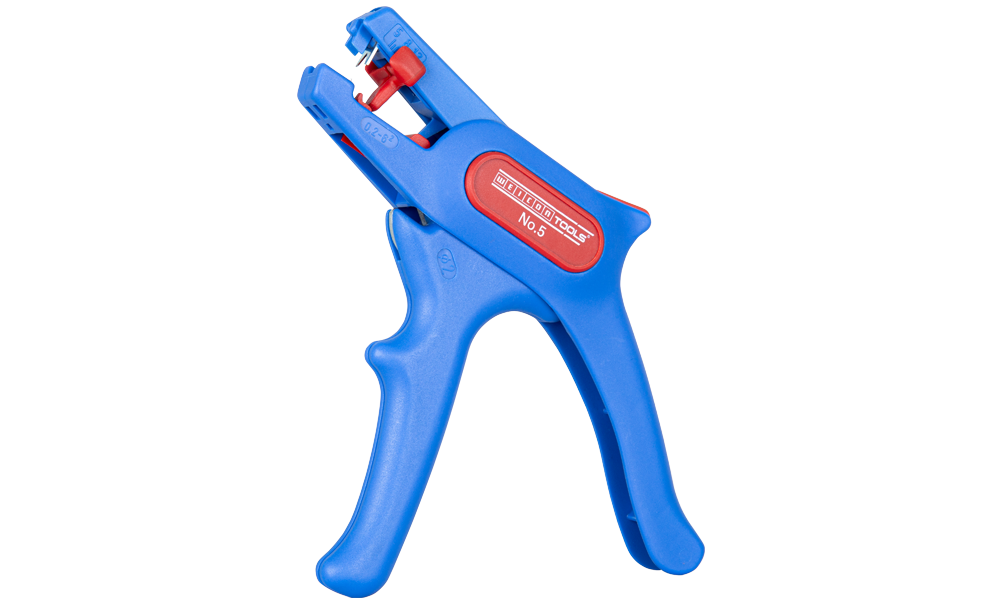 Wire Stripper No. 5
The WEICON Wire Stripper No. 5 has an adjustable length stopfrom 5 – 12 mm. This allows all flexible and solid conductors of 0.2 – 6.0 mm² (24 – 10 AWG) to be stripped. The length stop can be removed if required. An easy-to-access side cutter is integrated into the tool and can be used up to a cable diameter of 2 mm. It also has exchangeable blades.
More info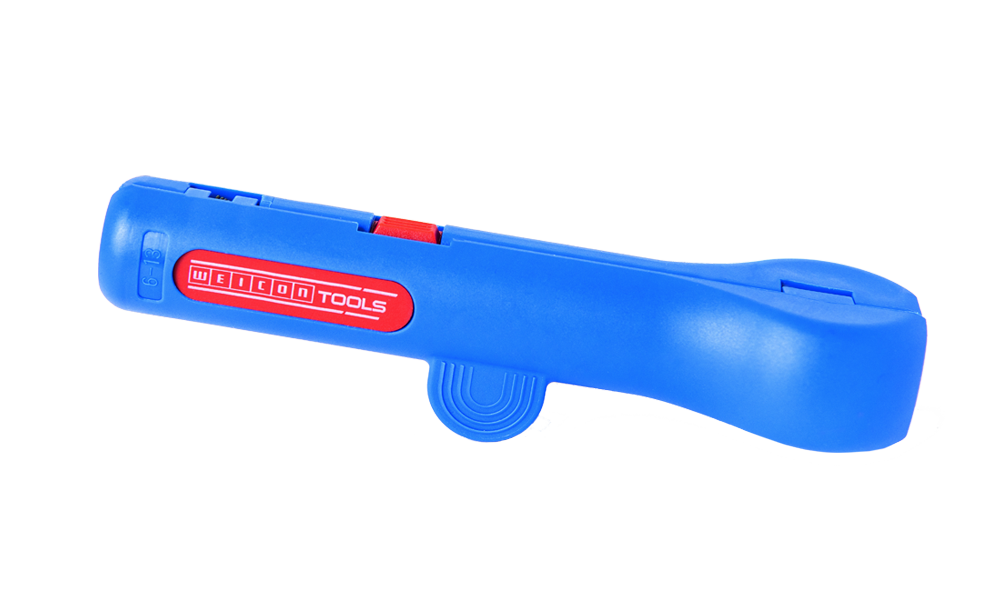 Round Cable Stripper No. 13
The Round Cable Stripper No. 13 enables fast and convenient stripping of all common round and wet room cables with a diameter of 6.0 - 13.0 mm (e.g. NYM cables 3 x 1.5 mm² to 5 x 2.5 mm²). Adjusting the cutting depth manually is not necessary. The new working range is thus also suitable for smaller wire diameters from 6 mm, such as 3 x 0.75 mm². Thanks to the ergonomic handle shape, the tool is particularly comfortable to use. The distinctive handle of the Round Cable Stripper No. 13 ensures a safe, non-slip grip. This helps to make daily work easier and also improves work safety. The rounded and space-saving tool head perfectly matches the modern wall box geometry. The longer shape makes access even easier when stripping in deep-set cavity wall boxes and spaces difficult to reach. Due to the new blade arrangement, clogging of the electro-galvanised knives due to residue of cable sheaths is prevented. For possible small series or for producing wires with the same strip length, a length stop is integrated in the housing. A fastening clip ensures safe storage of the tool.
More info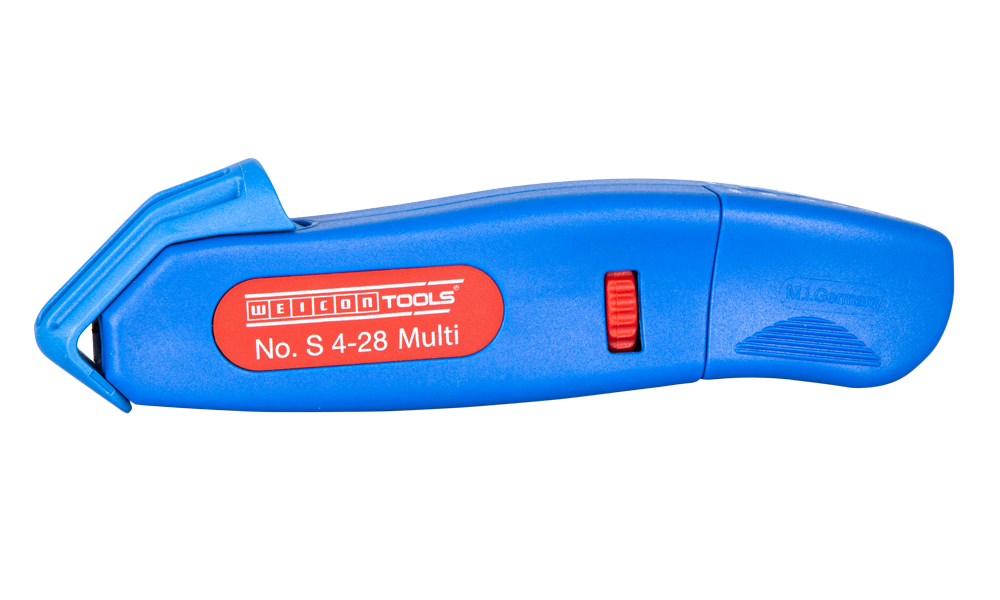 Cable Stripper No. S 4 - 28 Multi
The Cable Stripper S 4-28 Multi enables precise, fast and safe stripping of all common round cables with a diameter between 4 and 28 millimetres. Thanks to the adjustment screw in the housing, the cutting depth of the knife can be set with an infinitely variable range. This prevents damaging the inner conductor. The cutting blade is integrated in the housing and self-rotating, thus enabling the automatic adjustment from circular to longitudinal cutting. The additional stripping function is integrated in the housing and enables stripping of all common stranded and solid conductors with a cross section between 0.5 and 6.0 square millimetres.
More info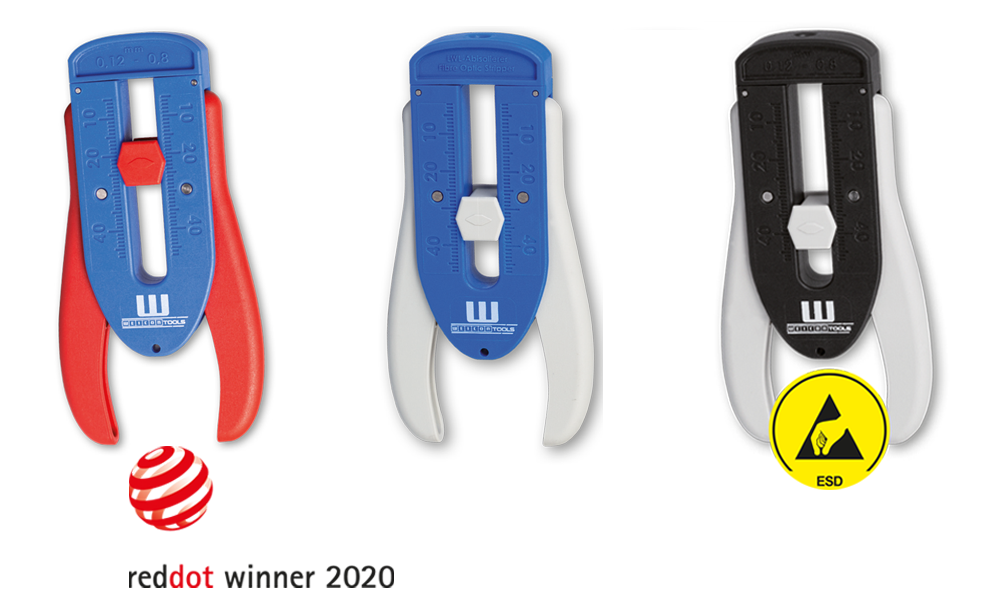 Precision Wire Stripper S
Semi-automatic wire stripper for the fast and safe stripping of thin conductors, braids or wires with small diameters of 0.12 mm –0.8 mm (36 - 20 AWG). The tool's scanning system automatically adjusts to the required conductor diameter, so adjusting the cutting depth is not necessary. With the adjustable scaled length stop for a working range between 5 and 45 millimetres, the required stripping length can be adjusted fast and easily. Two durable, precisely adjusted torsion springs, which impact on the knife pair symmetrically with a defined force to cut each insulation with the required pressure, ensure safe and convenient working. Combined with the scanning system integrated in the tool, this also ensures a stripping process without damaging the wire.
More info
Location
WEICON GmbH & Co. KG
Königsberger Str. 255
48157 Münster
GERMANY
T: 0251 9322-0
F: 0251 9322-244
The content of this page is under responsibility of the respective company.