KUKKO Werkzeugfabrik

Kleinbongartz & Kaiser oHG
Introduction
100 years of KUKKO – From extractor specialist to global solutions provider KUKKO, synonymous with solutions for non-destructive disassembly, celebrates its company centenary in 2019. What originated on 1/10/1919 as a production site in the basement of a house, is now a globally active family business in its fourth generation under the leadership of business owner, Michael Kleinbongartz. The market leader with a total of 80 employees is based in Hilden and sells its products in over 100 countries worldwide. Today, KUKKO is no longer just a manufacturer of extractor tools, but rather a solutions provider which uses its know-how and creative vision to ensure that its customers and partners can keep everything running smoothly. KUKKO "Original" proudly presents a unique range of products with 150 extractor types and 500 insert sizes. Even in its founding year, 1919, the two young entrepreneurs, Alfred Kleinbongartz and Emil Kaiser, demonstrated an entrepreneurial spirit that is still key to the corporate development of KUKKO today.
Products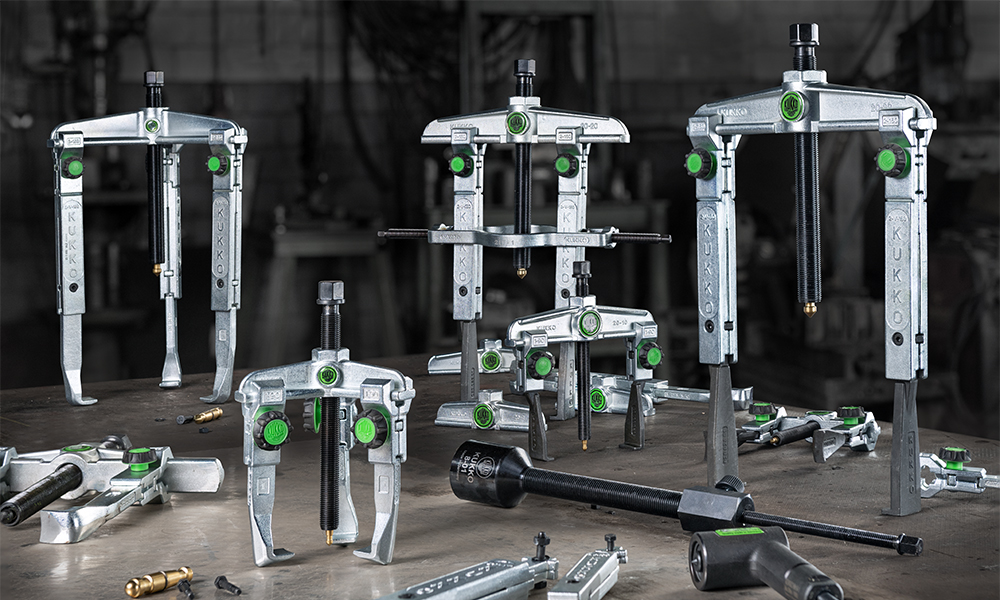 EXTERNAL EXTRACTION
100 percent proven worldwide. Original KUKKO pullers are the best choice for nondestructive disassembly, for example of roller bearings, bearing shells, gear wheels and pulleys. They grip the part that needs to be removed and rest on the shaft without damaging it. With its unique wide range of extractors known worldwide, KUKKO always has the optimal solution for every field of application.
More info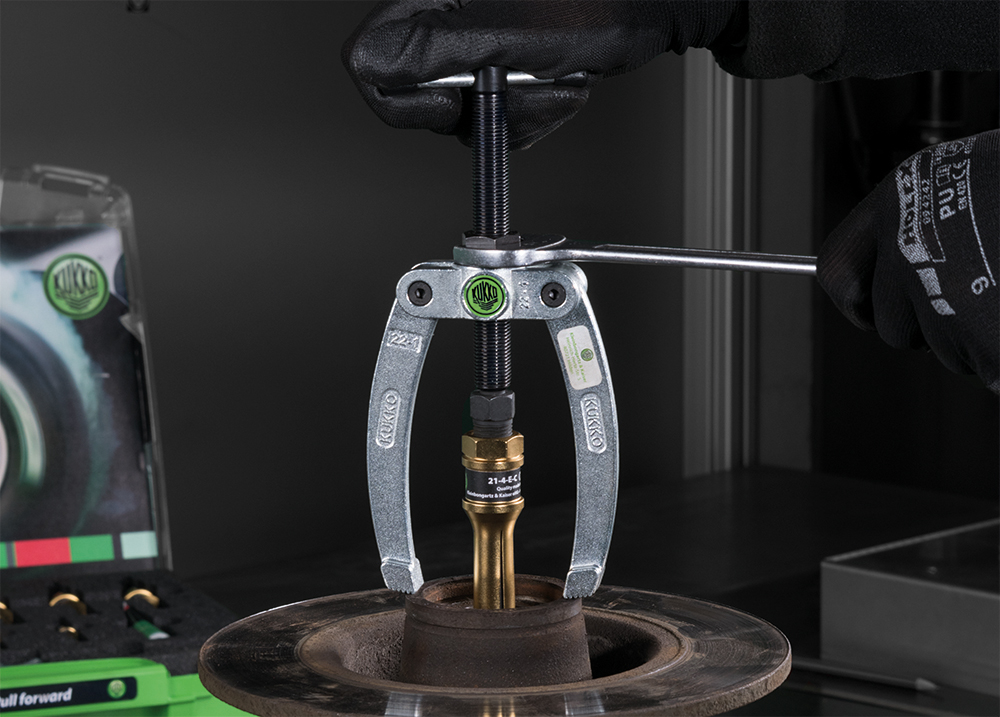 INTERNAL PULLING
100 percent effective power. The KUKKO internal extractors are the solution for parts that are located in a recess, but not on a shaft – for example, roller bearings, sliding bearings and silent bearings. They grip the part from the inside, which can then be pulled out by pulling or striking. KUKKO is a guarantee of high performance and a long service life.
More info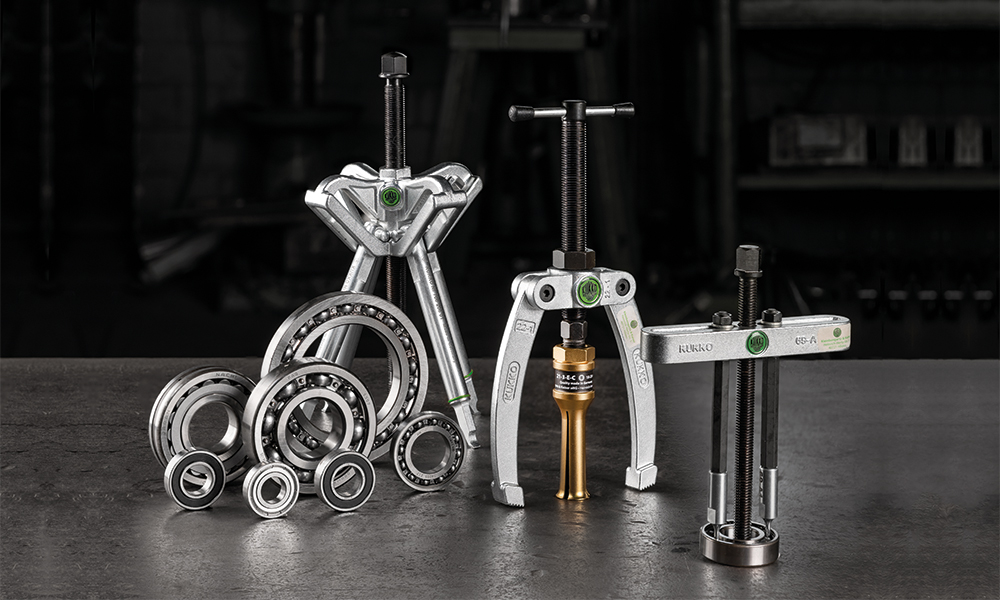 DISASSEMBLY
100 percent careful disassembly. The intelligent KUKKO solution for disassembling ball bearings of any type, which are inside a casing and on a shaft at the same time. Whether ball bearings, slide bearings, silent bearing, sockets, bearing race rings, gears or pulleys – every part can be disassembled without disassembling the shaft. Even if it is not possible to place the spindle on the shaft, the KUKKO slide hammer can be used in combination to ensure contact-free and gentle removal.
More info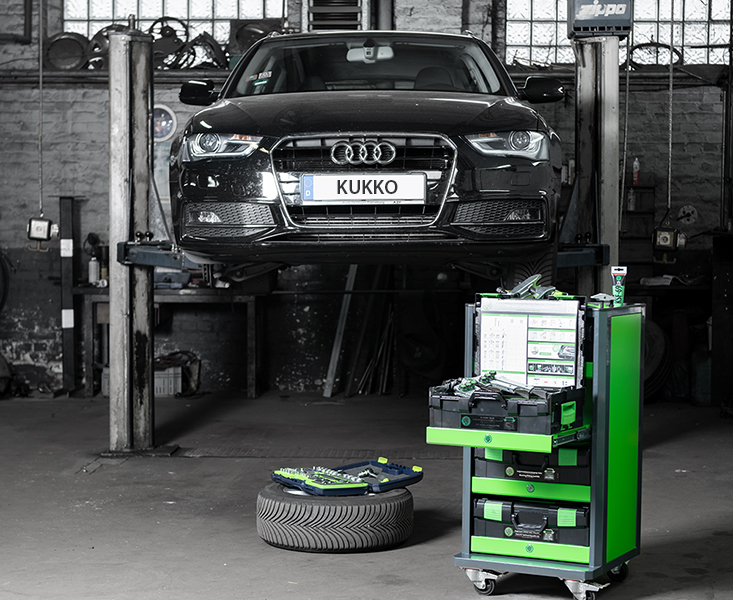 AUTOMOTIVE
100 percent effectiveness. KUKKO knows the special challenges of every automotive workshop. Engine compartments are becoming increasingly narrow, repair zones increasingly inaccessible and the mechanics increasingly complex. For highly demanding disassembly in the chassis area, KUKKO has developed very special puller and ejector solutions. The gripping of the joint and removing or pressing out until the ball is released is carried out carefully and with maximum efficiency.
More info
Location
KUKKO Werkzeugfabrik Kleinbongartz & Kaiser oHG
Heinrich-Hertz-Straße 5
40721 Hilden
GERMANY
T: 02103 9754-300
F: 02103 9754-310
The content of this page is under responsibility of the respective company.